We'll take a look at some of the most interesting 2022 domain name industry highlights that you should keep an eye on. From the new gTLDs to the company acquisitions, the 2022 domain name industry is full of surprises and advancements.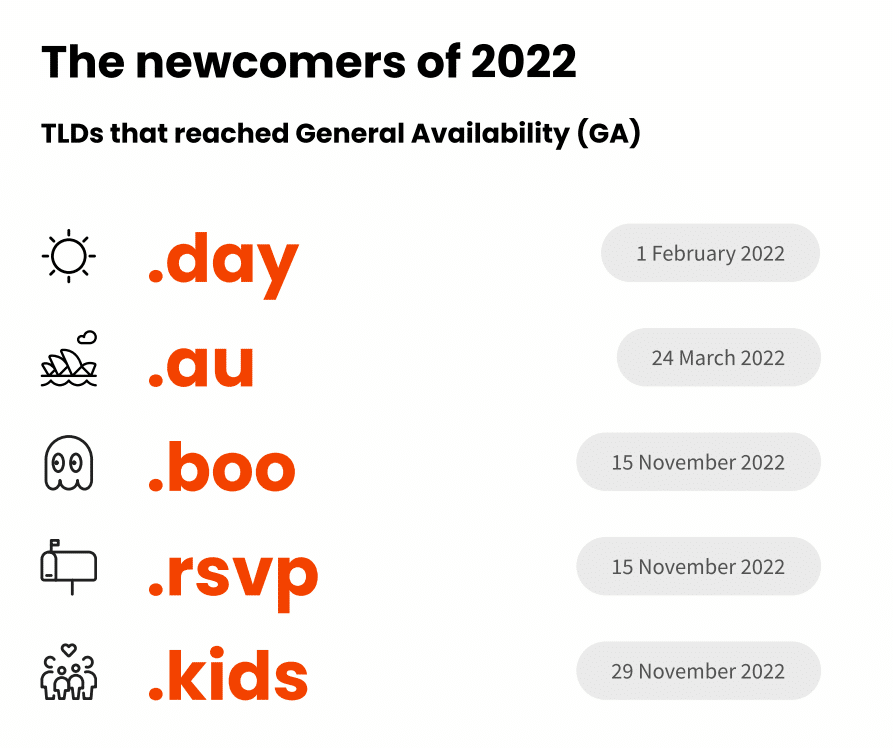 Table of Contents
(Mar 1) Sanctions impact domain registration and trading on .ru and .by domains
At the beginning of March 2021, the U.S. imposed sanctions on Russia, which impacted domain registration and trading on .ru TLD and .by TLD. As a result, domain registration and transfer services for .ru and .by have been suspended. This is due to the threat of secondary sanctions that could be imposed if a business entity from outside the EU or US were to provide such services.

This has had a significant impact on the domain industry as the . ru is one of the most popular domain extensions in the world. The suspension of services has made it difficult for businesses to register or transfer domain names under these extensions, as well as to access any web hosting services related to them.

The sanctions have hurt Russian businesses and other groups that use .ru or .by for their online presence the most. Companies have had to use different domain extensions or find other ways to keep their online presences going. Also, many have had to switch to using the URL of their company website instead of their .ru or .by address. Everyone in the domain industry, from registrars and web hosting companies to resellers and end users, has felt the effects of the sanctions.
(Mar 21) XYZ acquires new TLDs of .chrismas, .diet, .audio,.flowers, .game, .guitars, .hosting, .lol, .mon and .pics
Donuts Inc. sold 10 new top-level domains (TLDs) to XYZ Inc., which is a well-known registry and registry service provider. The new TLDs include: .Christmas, .Diet, .Audio, .Flowers, .Game, .Guitars, .Hosting, .Lol, .Mon, and .Pics.
The purchase is seen as a strategic way for XYZ to increase its market share and add to its list of top-level domains. It is also expected to increase consumer awareness of the different domain extensions available on the market.
The company said that customers would be able to buy the new TLDs at prices that were competitive and with a variety of deals and discounts. They also mentioned plans to introduce more extensions over the course of the year.
XYZ is known in the domain industry for having a.xyz TLD and competitive pricing. This purchase is part of their ongoing effort to stay at the top of the domain industry and offer the best services and features to their customers.
(Apr 14) GoDaddy acquires .blackfriday and .photo
GoDaddy has announced the acquisition of two more TLDs: .blackfriday and .photo. This move will further strengthen GoDaddy's position in the domain name industry and add to their existing portfolio of more than 70 million domain names.
GoDaddy bought the two TLDs as part of its plan to give customers a wide range of options for registering domain names.With the acquisition of .blackfriday and .photo, GoDaddy now has a wider choice of TLDs that are focused on retail and photography.
GoDaddy is looking to make it easier for customers to find the right domain names for their needs, and the addition of these two TLDs gives customers even more options when registering a domain name. The company is also working on providing customers with additional services such as web hosting, website design, and marketing services to help businesses get started online.With the acquisition of these two new TLDs, GoDaddy continues its journey to become the one-stop shop for domain names.
(May 10) Top Level Design acquires .tattoo
Top Level Design, LLC, made a major move in the domain name industry this week by acquiring the .tattoo TLD from Donuts Inc. This marks the fourth TLD that Top Level Design has acquired, having previously bought .ink, .wiki, and .design.
The .tattoo TLD is expected to be a major player in the domain name industry, with a focus on the rapidly growing tattoo culture. With over a million people receiving tattoos each year in the United States alone, it's no surprise that tattoo is becoming popular amongst those looking for an online presence.
In addition to being popular amongst those in the tattoo industry, the .tattoo TLD will also be a great resource for enthusiasts and those who want to document their own body art. With a "dot tattoo" domain name, users can create personal websites and social media accounts that are specifically dedicated to their own body art.
(May 18) Nova Registry Ltd acquires .link
Nova Registry Ltd. announced their acquisition of the new top-level domain name, .link, on May 18. The company has stated that they plan to use the domain to provide an innovative and secure way to connect users to content in a reliable and meaningful way.
The .link domain will be used as a platform for quick and easy access to valuable content such as websites, videos, images, documents, and more. Additionally, this top-level domain will provide the ability to generate links quickly, allowing customers to share content across multiple platforms with ease.
(Jun 6) GoDaddy acquires .study and .courses
GoDaddy made a significant move towards expanding its portfolio of top-level domains on June 6th when it announced the acquisition of .study and .courses. The new TLDs will open up opportunities for universities, businesses, educators, and students to create unique web addresses that are tailored to their field of study.
The acquisition of these TLDs will provide an additional layer of security for students, as the domains will only be available to accredited educational institutions. It will also help differentiate between legitimate educational websites and those that may not be entirely trustworthy.
GoDaddy is currently working to build out the infrastructure needed to support the new domains, including DNS and Whois privacy features. GoDaddy's Chief Executive Officer, Blake Irving, stated: "We're proud to be the first registrar to offer these important new domains. This is another step in our ongoing mission to make the Internet safer and more secure."By adding these two new TLDs, GoDaddy will keep up its long-term goal of giving its customers a better online experience.With .study and .courses, users will be able to easily identify and access websites that are relevant to their education.
This is great news for people in the education field, as well as for GoDaddy and the domain name business as a whole. The addition of .study and .courses is a sign of things to come in the industry and could lead to other TLDs being added to the registrar's portfolio in the near future.
(Jun 9) DigiCert acquires DNS Made Easy
DigiCert, the leading certificate authority, announced the acquisition of DNS Made Easy, a premier managed DNS provider. This purchase will add to DigiCert's services and give customers a secure digital experience from start to finish, from certificates to web hosting and DNS.
With this acquisition, DigiCert will be able to offer customers a comprehensive set of digital trust services that cover the complete customer journey – from identity assurance to secure hosting and delivery of their websites and applications. DNS Made Easy's reliable and resilient platform will ensure high availability for all DigiCert customers.
DigiCert did this as part of a bigger plan to become the go-to provider for customers who want secure digital services from start to finish.With this purchase, DigiCert will be able to offer its clients a full range of secure digital services.Among these services are certificates for encryption and authentication, secure web hosting, DDoS protection and mitigation, and managed DNS.
(Jun 16) ICANN assigns .help TLD to Innovation Service Ltd
The Internet Corporation for Assigned Names and Numbers (ICANN) has approved the assignment of the new top-level domain (TLD) .help to Innovation Service Ltd. The .help TLD will be the first internationalized TLD (IDN) to be assigned under the new IDN TLD Program, which was launched in 2012.

The .help TLD aims to provide individuals and businesses with a direct link to support services and resources in their own language. This will allow internet users to easily access help related content and resources online. The .help TLD will also provide companies and organizations with an opportunity to create customer-facing websites and domains that are easy to remember.
(Jun 28) GoDaddy acquires Dan.com
The most important thing this year is that GoDaddy announced the acquisition of Dan.com, formerly known as Undeveloped. The move marks a significant step forward in the domain industry, as it signals GoDaddy's commitment to becoming a major leader in the marketplace space. The purchase of Dan.com creates a virtual monopoly in the domain name market. With GoDaddy controlling Dan.com, they now have a major stake in both the buying and selling of domain names. This will give them an edge over competitors like Sedo, the second-largest domain marketplace.
Dan.com has been the No. 3 domain marketplace and is known for its user-friendly interface and top-tier customer service. It has a great user interface and a low commission, which makes it a popular choice for people who want to buy or sell domains.GoDaddy has reached a major milestone with the purchase of Dan.com, which will help them grow even more in the domain industry.Their control of Dan.com gives them access to a large number of potential buyers and sellers, making them the go-to destination for those looking to buy or sell domains.
This acquisition has been seen as a major development in the domain name industry, as it signals the continued interest of large players in the domain investment space.
(Aug 8) NFTs.com bought for $15,000,000, the second largest public domain sales ever
It's been a year of big domain sales in the industry, with nfts.com being the most recent acquisition. On Aug 8th, an anonymous investors bought nfts.com for a staggering $15 million, making it the second largest public domain sale ever.
The domain name itself stands for "Non-fungible token" and was registered back in 1999 by an American businessman.The identity of the buyer has not been revealed, however, it is speculated to be a private equity or venture capital firm looking to invest in the growing domain market.
This acquisition is yet another sign that the domain market is alive and well, with big players like investors, large companies, and entrepreneurs looking to acquire valuable domains.
(Oct 14) Google introduces site names on Google Search
Google announced that its new "site names" feature, which makes it easy to find websites by their domain name, is now live on its search engine.Google will add the new feature to all of its web searches, making it easier and faster to find websites.
The introduction of site names is seen as a major win for the domain name industry. Google will automatically show the most relevant result based on the user's search for a website name.Not only will this make the process of finding websites much more efficient, but it also allows users to easily recognize and trust official sites by the domain name.
The addition of site names is an important development for the domain name industry, especially since it offers businesses and organizations a way to stand out in the online world. This could lead to more domain name registrations as companies try to make websites that are unique and trustworthy.
(Oct 18) Unstoppable Domains stops selling .coin TLD
Unstoppable Domains, a blockchain domain name provider, announced it is no longer offering .Coin TLDs. The company made the decision to stop selling .Coin TLDs due to legal and technical considerations.
Unstoppable Domains launched .Coin TLDs in February 2020, with the goal of making it easier for people to use cryptocurrency. However, the company faced several challenges related to the usage of the domain, such as potential compliance issues with global financial regulations, potential trademark infringements, and technical issues related to registration.
Unstoppable Domains has made the decision to no longer offer .Coin TLDs, and is now focusing on its other services, such as domain registration and blockchain domain hosting.
(Dec 13) The .FR counts 4 million domain names
The .FR domain name registry recently reported that it had reached the milestone of four million domain name registrations. This is a remarkable achievement for the registry. The .FR registry, which is managed by the French government, was launched in 1986 and initially opened for registrations to both citizens of France.Since then, .FR domains have grown steadily in popularity, with businesses, organizations, and individuals using them to set up websites and email addresses. The registry reports that there has been a marked increase in registrations over the last few years..
.FR domains offer a great opportunity for businesses looking to expand their reach into the French market, as well as those looking to establish an international presence.
(Dec 21) Göran Marby steps down as ICANN President and CEO
Göran Marby has stepped down from his position as President and CEO of ICANN, the Internet Corporation for Assigned Names and Numbers. . His resignation follows a tumultuous year of budgeting and staffing changes at ICANN. The organization also faced criticism over its controversial new gTLD program and its handling of data privacy issues. .
Anyway, Marby led ICANN's efforts to promote competition in the domain name industry, encourage the growth of new gTLDs, and expand international participation in the organization. Marby's departure marks the end of an era for ICANN.