For domain investors,it is very important to understand the Afternic Fast Transfer.
Table of Contents
Afternic is the world's largest domain name marketplace.
Afternic is a Godaddy brand,which has been the largest domain name marketplace in the world. It enables domain buyers and sellers to buy and sell domain names on the domain market. With more than 47 million domain names, Afternic provides access to a wide variety of domains for buyers and sellers alike.

Afternic is a trusted source for buying and selling premium domains. The company's network of top-tier resellers is dedicated to helping buyers and sellers find the perfect domain name for their brand or website. Afternic also makes it easy for domain sellers to list their large domain portfolios for sale and manage the sale of their domain names through the platform.
What is Afternic Fast Transfer
Afternic Fast Transfer is a revolutionary way to buy and sell domains.

For buyers,with Afternic Fast Transfer, you can directly buy the domain names from your registrar and quickly transfer a domain from one user to your account with ease. The process of buying and selling domains is incredibly simple. When you purchase a domain, you will immediately receive an email notification that you can instantly receive the domain in your account. This means that you won't have to wait days or even weeks for the transaction to complete, as it happens with traditional methods.

For sellers, Afternic Fast Transfer provides a unique solution. You don't need to manually process the sale, as it is done automatically by Afternic's premium reseller network. As soon as the sale is processed, the domain is transferred immediately and securely from your account to the buyer's account. You just need to wait for the funds.

Afternic Fast Transfer streamlines the process of transferring domain names between different domain registrars, making it much faster and easier. It also allows users to list their domains for sale with a price tag of up to $100,000. As a result, it eliminates the hassle and wait time associated with traditional domain transfers. It gives end-users access to some of the best domain names available on the market. You have exclusive access to high-end premium domains from many of the top registrars, including GoDaddy, NameCheap, and Dynadot. This makes it easier for end-users to find the perfect domain for their brands and get it quickly without having to wait for long approval times.
What are fast transfer registrars
Fast transfer registrars are special domain registrars that support Afternic's fast transfer process. By using these registrars, domain owners can list their domains for sale on the Afternic marketplace and reseller networks and have them instantly transferred to a buyer's account. The currently supported registrars include GoDaddy, Dynadot, and Hexonet. Here is the complete list:
Godaddy.com (Recommended)
NameCheap.com (Recommended)
Dynadot.com (Recommended)
Hexonet (Recommended)
porkbun.com (Recommended)
sav.com (Recommended)
NameSilo.com (Recommended)
Name.com (Recommended)
NetworkSolutions.com
Enom.com
Register.com
tierra.net
Domain.com
mydomain.com
register.com
enomcentral.com
hover.com
eurodns.com
Rebel.com
regtons
NamePal.com
internet.bs
dotster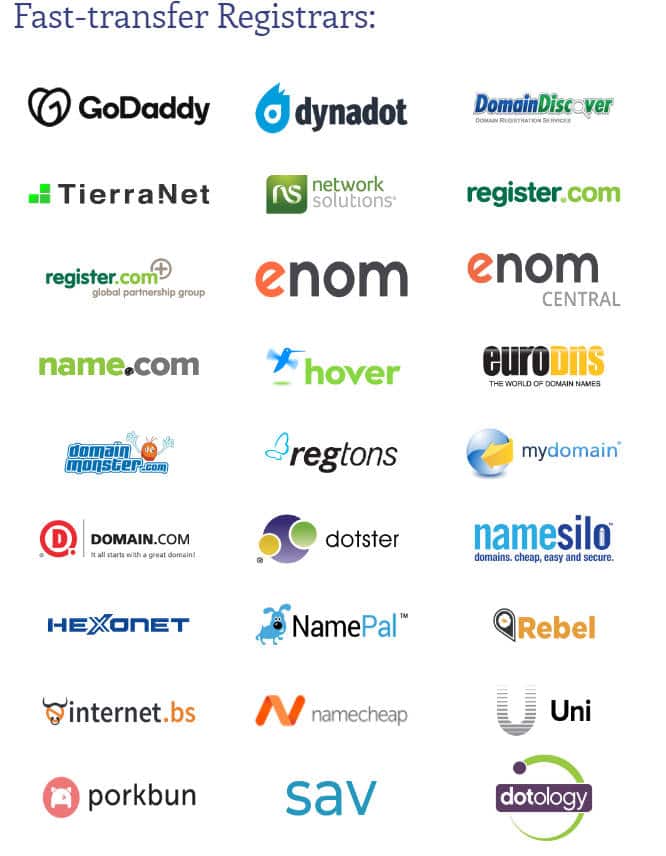 Once a buyer purchases your domain through the Afternic marketplace, the domain will be automatically transferred to their account at the corresponding registrar. This process is significantly faster than traditional transfers, which can take up to 10 days to complete.

When registering domains with one of these registrars, make sure you follow the instructions provided by Afternic to ensure your domains are eligible for fast transfer. Once your domain is set up, it will be added to the Afternic marketplace and available for potential buyers to purchase.
Fast Transfer eligibility conditions
To use the Afternic Fast Transfer service, a domain must meet certain eligibility criteria. Most important, you must use fast transfer registrars. Your domain TLDs must be a .com, .net, .biz, .org, .co, .info, .de and have a Buy Now price below $100,000. Additionally, it must have been registered for at least 60 days with its current registrar and not have any transfer holds. Finally, the domain names cannot be within 30 days of expiration or be expired.If you have a domain that meets all of these criteria, it should be eligible for Afternic's Fast Transfer service.
What is Afternic Premium Reseller Network
Remember, you must register the domains at fast transfer registrars instead of the registrars in the Afternic premium reseller network. Afternic's premium reseller network just helps promote your domain names.

Afternic Premium Network helps expose domains to over 75 million monthly search queries from the top 10 domain registrars in the world. Domains listed in the Afternic Premium Network are required to be enabled for fast transfer, meaning buyers can take control of them immediately after purchase. With such a large reach, the Afternic Premium Network is the ideal way to get your domain exposed to buyers around the world.

For example,Google Domains is a registrar in the Afternic premium reseller network,but it is not a fast transfer registrar. Google Domains can sell the domain names listed on the Afternic Fast Transfer network, however, the domain names you register at Google Domains are not eligible to be listed on the Afternic Fast Transfer network.

To get your domain listed in Afternic's Premium Network, you'll need to transfer it from Google Domains to a fast transfer registrar. Once your domain has been transferred, you can list it for sale in the Afternic Premium Network and start taking advantage of the increased exposure and higher sale prices.
3 Key Benefits of Having a Fast-Transfer Domain
Increased Exposure: One of the main advantages of using Afternic Fast Transfer is increased exposure for your domain names. All domains listed on Afternic FT are instantly syndicated out to the Afternic premium reseller network, giving your domain listings additional exposure to potential buyers. As more potential customers see your domains, this will increase your chances of making a sale.
Priority: The domains listed in the Afternic Fast Transfer network receive prioritized exposure over non-FT listings. This ensures that your domains will be visible to buyers and will be given preference.
Faster Transfers: By utilizing Afternic Fast Transfer, you can speed up your domain transfers, as they will be completed in minutes rather than days.
You Should Use Afternic Fast Transfer
If you're a domain investor, you should definitely consider using Afternic Fast Transfer for your domain sales. By taking advantage of Afternic Fast Transfer, you can boost your chances of selling your domains quickly. It's fast, secure, and it eliminates the need for manual paperwork, meaning you can focus on more important tasks while your domains are safely transferred. You also can try the Sedo MLS,which is a similar service for domainers.