The beginning is the most important part of domain investing. Choosing an investor-friendly domain registrar is one of the most important decisions you can make when it comes to building your domain portfolio. As a domain name investor, it's essential to find a domain registrar that is reliable, secure, and provides the features and services you need. Having a domain registrar that is investor-friendly will allow you to have peace of mind when investing in domain names.
Table of Contents
Why You Should Care About Choosing an Investor-Friendly Domain Registrar
Epik's domain registrar recently went down, and the biggest annoyance is that Epik does not support bulk domain name transfers out. After transferring out domain names one by one, I think it is a must-have for domain investors to be able to transfer out many domain names at once. The domain registrar is like a digital real estate developer, but you can switch to another domain registrar if you want. Bulk transfer out your domains if you don't like this domain registrar.
An investor-friendly registrar caters to domain investors and knows what they need, like bulk registration, discounts for buying domains for more than one year, free WHOIS privacy, and more.It's also important to ensure that the registrar has a good reputation and has a customer service team to provide support when needed.
Some of the most popular investor-friendly domain registrars are Dynadot.com, Sav, GoDaddy, NameCheap, 101Domain, HEXONET, Porkbun, Namesilo, and Name. Each one offers different features and benefits. With so many options available, it can be difficult to decide which one is best for you. Do your research, compare prices and features, and read reviews before making a decision. This way, you can find the registrar that will best meet your needs and give you the most bang for your buck. No matter which registrar you choose, it's important to read the terms and conditions carefully before signing up. That way, you can ensure that you're getting the best deal for your money and that you won't be hit with any hidden fees or charges down the line.
Dynadot is the Best Investor-Friendly Domain Registrar
I recommend Dynadot.com as the best domain registrar for investors. The most important one is the registrar's investor-friendly policies. After all, your domain portfolio is an asset, and you want to make sure that you protect it with the best registrar for your needs.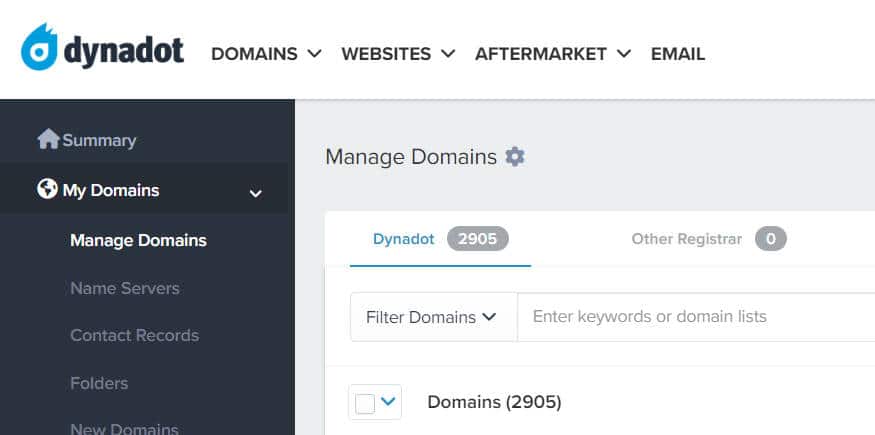 Dynadot was created with the investor in mind, and their customer service, pricing, and feature set are all tailored to suit the needs of investors. Dynadot offers "Super Bulk" pricing for domain investors. They offer some of the lowest prices on domain renewals and transfers, allowing you to keep more of your money in your pocket.

Dynadot offers a variety of features to help you manage your domains. Their user interface is designed for convenience and ease of use, making it easy to quickly make changes and updates to your domains; Support both Afternic DLS and Sedo MLS there; The Afternic Fast Transfer can be approved easily from the Dynadot dashboard. Most importantly, their customer service team is always ready to answer any questions or address any concerns you may have. I love their fast support.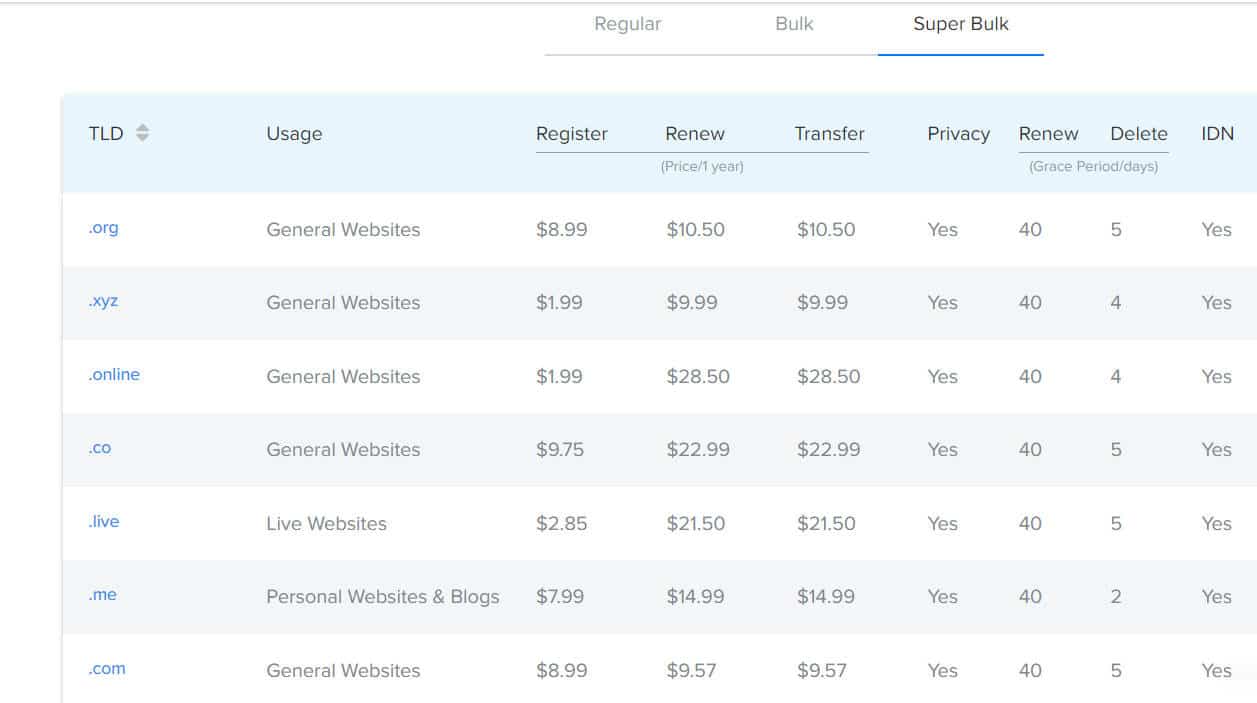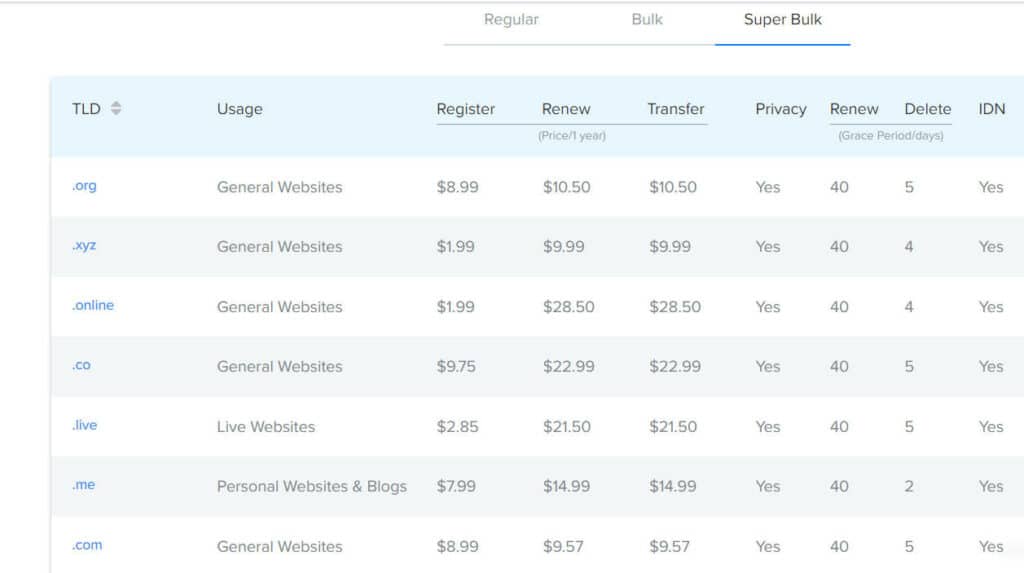 For these reasons, Dynadot is the best domain registrar for investors. They have the features and pricing that make it easy and convenient for you to manage and grow your domain portfolio. So if you're looking for an investor-friendly domain registrar, Dynadot is the best.
GoDaddy is a Must-Have Registrar for Domain Investor
GoDaddy.com is the most well-known and reputable domain name registrar in the world and provides many features that make it an ideal choice for investors. GoDaddy offers both live and silent domain auctions, allowing investors to purchase domains quickly and easily. You must have a Godaddy account to hunt for expired domains. In addition, GoDaddy also provides bulk registration services, allowing investors to register multiple domains in one order. Investors can also use a variety of filters to find the perfect domain for their portfolio. Finally, GoDaddy provides a comprehensive domain buyer protection program that helps protect investors from fraud, lost domains, and other issues that could arise from the buying process.
With its wide range of services and affordable pricing, GoDaddy is a great option for investors looking to register domains in bulk or manage multiple portfolios. GoDaddy's Discount Domain Club is an especially attractive option for domain investors who are looking to maximize their profits and save money.
The Discount Domain Club is a subscription program that offers discounted pricing on GoDaddy's services. When you join the Discount Domain Club, you get access to discounted prices on domain name registrations, renewals, transfers, privacy protection, web hosting, and more. You also get exclusive discounts on special offers such as top-level domain names and web hosting. The Discount Domain Club membership also includes free domain privacy protection and free domain forwarding.
GoDaddy also offers great support for domain investors. They have a team of experts that can help with everything from domain transfers to domain disputes. They also offer specialized services like their Domain Name Investment Program, which assists with portfolio management and asset allocation.
Their biggest domain name marketplace makes it an ideal choice for the savvy investor looking to get the most out of their investments. With their Discount Domain Club and expired domain auction services, all of these features make GoDaddy a must-have registrar for any serious domain investor.
SAV is an Affordable, Investor-Friendly Domain Registrar
I no longer recommend Sav as a primary domain registrar. At this time, SAV domain prices are not the lowest. But it's good to see a domainer-friendly registrar emerge to compete with the big players.

Sav is one of the most investor-friendly domain registrars on the market. It only has a 4% commission, which is the lowest among leading marketplaces. It offers comprehensive, cost-effective solutions for registering, managing, and renewing your domains.They provide all the services you need to properly register and manage your domainm,but there are some bugs in the SAV website, and no 2FA.To Sav's credit, they do try to keep their prices as low as possible so that registrants can afford to keep their domains. That's a tremendous plus.
Namecheap is a Premium Investor-Friendly Domain Registrar
Namecheap is good if you like coupon codes. They offer competitive prices, easy domain management, and reliable customer support, making them a great option for any domain investor.NameCheap was the first domain registrar to accept Bitcoin as payment in 2013.
Firstly, Namecheap offers competitive pricing for their services with coupon codes.Additionally, Namecheap offers discounts for bulk purchases, making it more cost-effective for larger investors. However, the VIP Rewards Club's pricing is still unattractive to domain investors.
Secondly, Namecheap makes it easy to manage your domains. They offer a user-friendly interface that allows you to easily search, register, and manage your domains. You can also set up auto-renewal so that your domains will automatically renew every year, eliminating the hassle of manually renewing them each time.I like their UI.

Thirdly, Namecheap offers reliable customer support. If you have any issues with your domain registration or renewal, they have a team of knowledgeable customer service agents who can provide assistance. They also have an online help center with helpful articles and FAQs, so you can find answers to your questions quickly and easily.
Finally, Namecheap is a trusted name in the domain industry. They have been around since 2001 and have built a solid reputation for offering quality services and great customer support.
Namebright is an Underrated, Investor-Friendly Domain Registrar
If you use DropCatch's expired domain backorder service, you will have a NameBright account.Maybe you dislike the outdated UI. However, NameBright has several features that make it investor-friendly:
A CSV export with optional auth codes allows you to transfer out your domains in bulk.
They offer "at-cost" pricing.
With a Namebright combined account, you can buy a HugeDomains domain in installments.
Dropcatch integration.
It is very powerful for large domain name portolio.
Porkbun is a Positive, Investor-Friendly Domain Registrar
Porkbun is a reliable domain registrar that specializes in offering top-notch services to investors. It has a wide variety of domain names available, making it easy to find the perfect name for your investment. Additionally, Pork Bun offers top-tier customer service. Porkbun definitely has phone support, including on weekends. Domain investors can get help 24 hours a day, seven days a week.


You can manage your entire domain portfolio with Porkbun's external domain management.With Porkbun, you can easily manage your domains and make sure they stay secure. In addition, the UI is user-friendly. Plus, their user-friendly website makes it easy to manage your domains in bulk. With PorkBun, you can be sure that your domains are in good hands.
Hexonet is an Investor-Friendly Domain Registrar for cctld Domain Names
I always called it 1API. I use Hexonet because they provide a low-cost Trustee Service for.de domains. Hexonet also offers a wide range of services for investors. It has been in business for more than 15 years and gives its clients a safe, reliable, and flexible platform for managing their domain portfolios.
For investors who are interested in ccTLD domains, Hexonet is an ideal choice. The registrar offers.de domain trustee services and allows you to register domain names from countries like Germany, Austria, Switzerland, and Liechtenstein. With this feature, investors can buy and transfer .de domains without having to worry about anything. A great tip for you: You can backorder expired domains in Hexonet from hundreds of TLDs including ccTLDs and traditional gTLDs, including gTLDs from Donuts, CentralNIC, and Afilias.
Moreover, Hexonet provides 24/7 customer support in case you have any issues or questions about your account. Additionally, the company has an automated control panel that allows you to manage all your domains quickly and easily. The platform also provides you with a host of tools and features that make it easier for you to register, transfer, and manage your domains with ease.
Hexonet is an excellent choice if you are interested in .de domain name investments.
101domain is another Investor-Friendly Domain Registrar for cctld Domains
Are you an investor looking to invest in country code top level domains (cctlds)? Then you're going to need a domain registrar that specializes in cctlds. 101domain is the perfect fit for you. With over 300 domain extensions and 21 languages to choose from, it's the world's most comprehensive domain name provider.

101domain provides more than just the standard ccTLDs such as.com and.net. It also includes some less common ones such as .co, .bz and .us. As an investor, this gives you access to more domain names than a regular domain registrar would.

The company also provides comprehensive support for each of its cctlds, making sure that you can quickly and easily manage your domains. Plus, they have an online interface that lets you monitor the availability and prices of your domains from anywhere in the world.

In addition, 101domain offers high security measures to keep your domain data safe. They use encryption technology to protect your information and guarantee that all transfers are completed securely. Plus, their customer service team is available 24/7 in case you need any help along the way.

101domain is an Investor-Friendly Domain Registrar specializes in cctld domains. If you're looking to invest in country code top level domains, then this is the good choice for you. You can be sure that your domains are secure and well-managed, while also having access to a wide range of cctlds that other registrars may not offer.
Namesilo is an Excellent Investor-Friendly Domain Registrar
Namesilo is an excellent choice for those looking for a reliable, investor-friendly domain registrar. With a wide selection of TLDs and ccTLDs, Namesilo is an excellent choice for domain investors. They offer very competitive pricing and have an intuitive interface that makes managing your domains easy and convenient.Besides, Namesilo accepts Bitcoin as payment.

Namesilo offers a variety of services that make domain investing a breeze, such as fast domain transfers, a brokerage product Namelot, and a cheap domain backorder service Catch Club. For those looking to get the best deal on their domain names, Namesilo offers many discounts and promotional offers.
CrowdDomains: $7.88 Domain Registration and $7.88 Domain Backorder for .com
CrowdDomains is simply a domain reseller offering the cheapest domain registration and backordering. I'm always on the lookout for big deals for a larger domain portfolio.
$7.88 .com Domain registration is now restricted to big players only. You can contact us if you register 300+ .com domains in a month.
$7.88 .com Domain Backorder: It is public pricing, but it is impossible for most people to backorder so many domains in a month. The average backorder price for a.com domain is $8.28. When compared to other registrars, it is still the cheapest.com price.